Roleplaying Games : Pathfinder Bestiary 3
Posted by MadeOfFail

on 12/21/2011 13:07:11

(

433 reads

)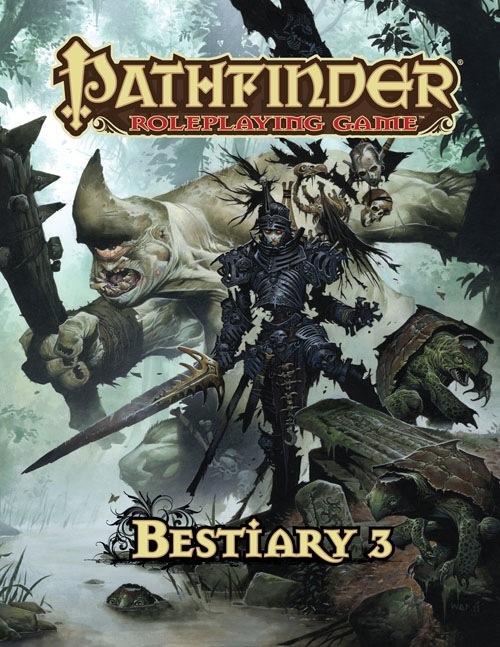 Pathfinder Bestiary 3 is in stock now!

Test your courage against the most infamous foes of myth and legend! Bestiary 3 presents hundreds of monsters for use in the Pathfinder Roleplaying Game. Within this book you'll find demiliches and demodands, grave knights and goblin snakes, norns and nephilim, imperial dragons and unfettered eidolons, and so much more! Yet not every creature needs to be an enemy, as winged garudas, crafty tanukis, and leonine lammasus all wait to join your party and answer the call of glory.
Read More...
Roleplaying Games : Pathfinder Advanced Player's Guide Now in Stock!
Posted by MadeOfFail

on 8/6/2010 15:47:22

(

250 reads

)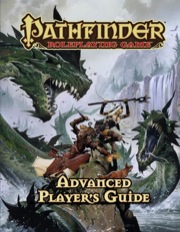 Take your Game to the Next Level!

Explore new and uncharted depths of roleplaying with the Pathfinder RPG Advanced Player's Guide! Empower your existing characters with expanded rules for all 11 Pathfinder Roleplaying Game core classes and seven core races, or build a new one from the ground up with one of six brand-new, 20-level base classes. Whether you're designing your own monstrous helpers as an enigmatic summoner, brewing up trouble with a grimy urban alchemist, or simply teaching an old rogue a new trick, this book has everything you need to make your heroes more heroic.
Read More...
Roleplaying Games : Free RPG Day June 19th
Posted by MadeOfFail

on 6/10/2010 11:50:00

(

226 reads

)
HERE in the forums.
Free RPG Day is a great opportunity to come in play some of your favorite games or try a new game. Meet some new friends and get some free samples of a variety of different game systems and settings!

Come in Saturday June 19 and get your game on!

Sign-up sheet is posted at the front of the shop and you can see the schedule of event or discuss
Roleplaying Games : Rogue Trader Core Rulebook
Posted by MadeOfFail

on 10/7/2009 15:30:05

(

208 reads

)

In Rogue Trader, you take on the role of a Rogue Trader and his most trusted counsellors, empowered by an ancient warrant of trade to seek out profit and plunder amongst unexplored regions of space. Your ship will take you to new worlds and uncharted reaches of the void, where you will encounter rivals, pirates, aliens, and possibly even creatures of the warp. You will acquire and spend great wealth and riches, and fame or infamy will follow. You will discover ancient and forgotten mysteries and search out the unknown to find lost human worlds or never before seen celestial phenomena. You must survive the dangers of space, for beyond the threat of vacuum and deadly radiation lurk things Man was never meant to find.

To be part of a Rogue Trader's crew is to stand on the threshold of nearly unlimited opportunity. Vast profits await for you and your fellow Explorers to find and claim. Fame and fortune reward the bold, but the unwary find only an anonymous death.

• Fast character creation to get you into the game quickly, including a lifetime of possibilities with an expanded origin path system.
• Dynamic rules for all eventualities that let you handle everything from social interaction to deadly fast-paced combat, starships and psychic powers to a system of profit and influence.
• Comprehensive background on Rogue Traders, written by Warhammer 40,000 novelist and GW Design Studio member Andy Hoare.
• Build your own starship or begin play with one of the six pre-generated vessels.

Begin your players' path to wealth and glory with a complete starting adventure that puts the Explorers right into the middle of the action. The Rogue Trader core rulebook contains everything you need to start your adventure in the Warhammer 40,000 universe.

Roleplaying Games : So you like 3.5?
Posted by travis

on 8/12/2009 11:37:05

(

205 reads

)


So, you like D&D 3.5?

You dont want to lose all the old 3.5 books you own?

Well try PATHFINDER!!!

We will be running demo on the 29th to get people involved (sign up soon)

However, intill then come check out the book.

Heck, why not come and buy it!!!

(more info below)

Read More...
Roleplaying Games : ORDER OF THE STICK IS BACK
Posted by travis

on 9/12/2008 18:32:10

(

250 reads

)
he epic battle between good and evil becomes more epic-y than ever in the third volume in The Order of the Stick story, War and XPs. Follow the continuing adventures of Roy, Haley, Elan, Durkon, Vaarsuvius, and Belkar as they persevere prophecies, revenge, true love, heroic battles, villainous treacheries, tragic falls, and one swingin' party. Read in white-knuckled edge-of-your-seat anticipation as the Order leads the charge in a massive siege that makes the Battle of Thermopylae look like a sorority car wash.

Continuing directly from the story in the award-winning No Cure for the Paladin Blues, this book is a must-have for those who have been collecting the entire The Order of the Stick story in print format. Only slightly briefer than its namesake, War and XPs is a mammoth 288-page comic book that weighs in at over 2 pounds of comedy and covers all of the OOTS comics between #302 and #484—but we didn't stop until we crammed more than 30 pages of never-before-seen bonus material into this book, too!

* Check it out: More than 15 bonus comics that expand the story as it unfolds!
* Extensive author commentary, providing insight that he will likely regret revealing almost immediately!
* A two-page tourist's guide to Azure City!
* Foreward by Pat Rothfuss, New York Times-bestselling author of The Name of the Wind!
* Preface by Elan the Bard!
* A brief recap of the first two books by Vaarsuvius!
* Translations for Haley's cryptograms!
* Valuable money-saving coupons!

Finally, Giant in the Playground is proud to announce that for the first time, The Order of the Stick will be printed on 50% recycled paper, approved by the Forest Stewardship Council (which, contrary to dwarven beliefs, is not a secret cabal of deciduous overlords plotting the leafy doom of us all).
Roleplaying Games : PATHFINDER RPG HAS ARRIVED
Posted by travis

on 9/4/2008 13:58:45

(

225 reads

)

This complete stand-alone fantasy RPG takes your fantasy campaigns to new heights of adventure! Backward-compatible with the 3.5 fantasy rules but offering new solutions and options that place it firmly on the cutting edge, the Pathfinder RPG Beta release is the result of the largest open public playtest in RPG history.

* The Pathfinder RPG includes: Revised rules for the seven classic fantasy RPG races
* Updated options for the 11 core classe
* A streamlined skill system that makes things easier for players and GMs
* A host of new and familiar feats, including innovative combat feats and item creation rules
* New equipment
* New and revised combat options aimed at dispelling confusion at the game table without sacrificing versatility
* Overhauled rules for domains, familiars, bonded items, specialty schools, and more
* Dozens of new and revised spells
* Updated rules for NPCs, including quick-generation rules
* New rules for curses, diseases, and poisons
* A completely overhauled experience system with options for slow, medium, and fast advancement
* Hundreds and hundreds of magic items
* AND MUCH, MUCH MORE!

The Pathfinder RPG Beta release is available as a free PDF download and as a 408-page full-color softcover print edition.

Help us determine the future of your favorite game system by participating in the Pathfinder RPG open playtest today! This Beta release includes everything you need to run a Pathfinder campaign. Paizo will continue to monitor playtest feedback for the complete rules set in preparation for the release of the Pathfinder RPG hardcover in August 2009.

24.99

PATHFINDER CHRONICLES

The world of Pathfinder comes alive in the Pathfinder Chronicles series of sourcebooks and game accessories! Venture across the borders of Varisia into the wilds of Golarion with beautiful map folios, tempt fate and fortune with a quick game of Harrow, or explore the far reaches of the world with guide books and hardcover sourcebooks aimed at enhancing your Pathfinder experience. The Pathfinder Chronicles line is the only place to get all this great material, and the only way to ensure that you get all of it is to start an ongoing Pathfinder Chronicles subscription today!

The Pathfinder Chronicles product page features a list of upcoming releases. With your ongoing subscription, we'll automatically send you every new Pathfinder Chronicles product as it is released, charging your credit card only as we ship each item. You'll only need to sign up once, and never need to worry about renewal notices or missed products!

49.99


Roleplaying Games : 4th Edition Releases
Posted by travis

on 6/10/2008 11:46:21

(

237 reads

)

We have a INSANE AMOUNT of release as of late.

Here is what came out in the last couple of weeks.

Dungeons and Dragon's 4th edition
Players Handbook
The Player's Handbook presents the official Dungeons & Dragons Roleplaying Game rules as well as everything a player needs to create D&D characters worthy of song and legend: new character races, base classes, paragon paths, epic destinies, powers, more magic items, weapons, armor, and much more.
•Covers Levels 1-30
•Includes Magic Items
•Many complex rules eliminated or simplified
•New page layout; new character options
•Character advancement is meaningful at each level
•High level play as fun and meaningful as low level.
•Character class roles are going to be more tightly defined within the rules.
•Resource Management overhauled. Game will keep going even when the caster is out of spells.
Hardcover 320 pages, Retail Price: $34.95

(click read more)
Read More...
Roleplaying Games : Dark Heresy
Posted by travis

on 1/25/2008 18:20:00

(

203 reads

)


You are an Acolyte in the service of the Emperors' Inquisition. You stand in the front line of a great and secret war where your duty is to hunt out the foul stench of heresy, the vile alien, and the twisted influence of Chaos. You will tread where others fear, venturing to distant planets, ancient space hulks and the unsavoury depths of the under-hive.

You will never know fame nor reward, yet if you stand resolute your deeds will be whispered to the God-Emperor of Mankind and your name will be revered for millennia.

Fast character creation to get you into the game quickly, followed by a lifetime of possibilities with an expanded advanced careers system.

Dynamic rules for all eventualities th at let you handle everything from social interaction to deadly fast-paced combat, psykers and psychic powers to insanity and mutation.

Comprehensive background on the Calixis Sector, the official setting for Dark Heresy written by best-selling Warhammer 40,000 novelists Dan Abnett and Ben Counter.

A galaxy of guns to equip your acolyte, from lasguns to inferno pistols, chainswords to power blades.

Pitch your players straight into the midst of dark events with a complete adventure to get you started.The Dark Heresy core rulebook contains everything you need to start your adventure in the Warhammer 40,000 universe.